General H-1B Information
The H-1B is an employer-specific working visa for individuals holding "specialty occupation" positions at UMBC.  The H-1B petition scrutinizes the salary, working conditions, special skills, and educational background needed for the job. The employer will also need to attest to compliance with U.S. export control regulations and whether the research pursued by the H-1B worker requires access to technology considered proprietary or confidential.  To learn more about the Export Control provisions, see the Information page for Visiting Students and Scholars maintained by UMBC's Vice President for Research.
International individuals that have other possible immigration statuses with which they can work for UMBC will be advised to use these alternatives first.  However, if the hiring department or office wishes to pursue H-1b status to benefit the employee, and not out of necessity, this is considered an "elective" H-1B and will be processed by an attorney managed through our office.  The hiring department or office will be responsible for the legal fees.
Click Here to review the complete UMBC H-1B and Permanent Residency Sponsorship Policy.
Timeline details:
Please note: the timelines below start only after you have received the appointment letter for faculty positions or the offer letter for staff positions via PageUp.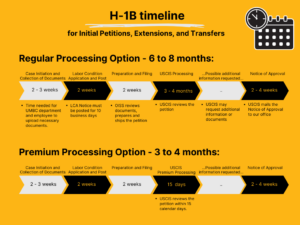 Directions to file a New H-1B petition for employment with UMBC
Preliminary Steps:
Submit the following to dianezg@umbc.edu – we will need to determine if the position is eligible for H-1B status:

Appointment Letter
CV/Resume of intended H-1B hire
Job Description used during this search
After the position is deemed appropriate for H-1B status, we will email you the next steps.
New Hire: The new hire will need to begin preparing the H-1B Worksheet and supporting documentation after we complete the preliminary steps.  They are welcome to be in touch with our office for any questions.
Please note, if their highest degree was earned outside of the US, an international credential evaluation is required by USCIS.  They are welcome to use any
NACES-accredited evaluation company.
Department:  The department will need to work on preparing the following:
Actual Wage Memorandum completed by the contact indicated on the form, to capture comparative salary data
Export Control License review: https://research.umbc.edu/export-control-information-for-students-and-scholars-2/
Prepare filing fees:  $500 Fraud Detection Fee, $460 I-129 filing fee, and if needed, $2,500 Premium Processing Fee.  These need to be three separate checks, each made out to "Department of Homeland Security."  The Premium Processing fee is often, but not always, required.

UMBC's Financial Services Team requires documentation of the quantity of each check.  Please use these documents, which have been vetted with the Financial Services team, for that purpose:
Our office will require at least 6 weeks to prepare all documentation, go through the required steps and submit the petition after we have received all documents.  For urgent cases requiring faster processing time, please contact our office to understand what may be possible for your unique case.
Directions to Extend the H-1B status of an existing UMBC employee in H-1B status
Please contact our office for next steps on planning ahead for an H-1B extension.
H-1B Fee Details
There are fees which the Department of Homeland Security (DHS) charges to process the H-1B petition.  These fees are paid by the hiring UMBC department in the form of separate working fund checks made payable to the Department of Homeland Security.
I-129 form fee:  $460
Fraud Detection and Prevention Fee: $500  Subsequent extensions of an existing H-1B for the same employer do not require the $500 to be paid again.
Premium Processing Fee: $2,500  This fee provides a response on the application within 15 calendar days.  Average processing time without this additional fee varies but can be between 3-8 months.  If the person already holds H-1B status, this fee is usually not necessary.