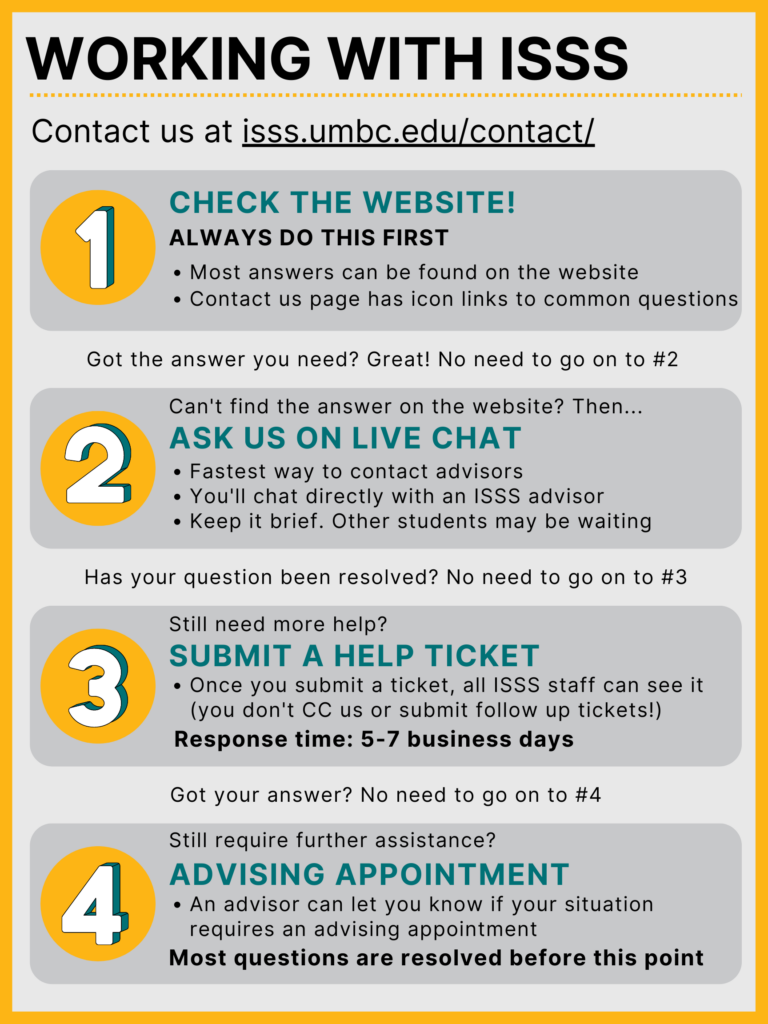 Advising Hours and Live Chat
ISSS advisors are available to meet with you to discuss questions you might have.
You must have an appointment in order to speak with an ISSS advisor during Advising Hours, but you are welcome to connect with us on Live Chat whenever we are online.
Please adhere to the following guidelines:
If you have already submitted a Help Ticket, please do not make a separate appointment to follow up. You'll receive a response in five to seven business days
Remember to include your Campus ID and any relevant information when making your appointment
 Submitting a Help Ticket
If you have a question or issue that you cannot resolve using any of the methods above, please submit a Help Ticket. We aim to respond to inquiries within 5-7 business days. ISSS advisors respond to tickets during business hours: Monday through Friday, 9:00 AM to 5:00 PM.
Please do not submit multiple tickets or contact individual CGE staff members. This will only delay our ability to respond promptly to your inquiry.
 Document Drop Off & Pickup
If you need to drop off an I-20 for a travel signature or pick up a document from ISSS, you can visit the front desk of the Center for Global Engagement (CGE), located on the second floor of the University Center (above Starbucks and Chick-fil-A).
CGE is open from 8:30 AM to 4:30 PM, Monday through Friday.
Please adhere to the following guidelines:
Only come to pick up a document when you have been notified it is available
Document requests cannot be made by visiting the front desk – please use the appropriate method (ISSS Portal or Help Ticket) to make your request
You must bring your UMBC Campus ID card
You cannot meet with an ISSS advisor when you pick up a document
ISSS is your best source of information regarding immigration, visas, and work permission. For other inquiries, please contact the specific office or department that manages those areas:
Before you schedule an appointment or contact us, the answers to most F-1 student questions can be found here: