American food may be different to the food you were used to in your home country. Finding food that you like but that also makes you feel good is an important aspect to a successful adjustment to life in the United States. You may be tempted to skip meals or to choose unhealthy foods, especially, during times of high stress such as exam week.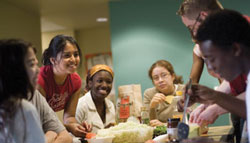 Eating unhealthy food can often cause loss of energy and bad moods.
It is important to find places on or off campus where you can obtain healthy foods that you enjoy. The following pages on on campus and off campus dining will link you to some resources to find nutritious food options and also some familiar food options.