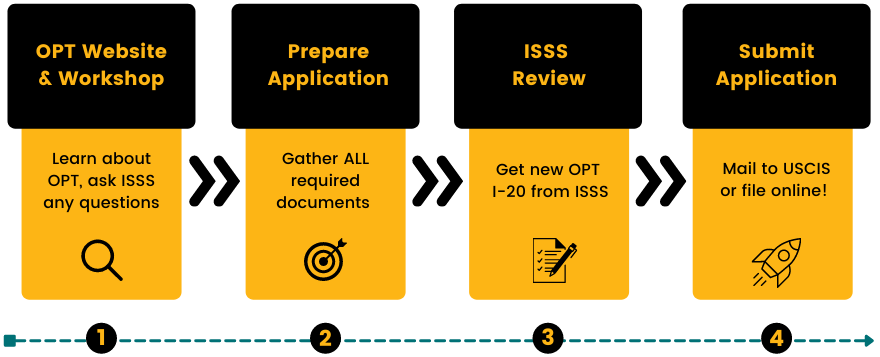 OPT (Optional Practical Training) is the opportunity for graduating international students to work in the US for one year and gain experience in the field in which they've just earned a degree, to continue learning in a practical way.
Click the relevant link for more information:
OPT Processing Time Trends; Waiting for OPT to be Approved
OPT during COVID-19
Please see details related to applying for OPT during the COVID-19 situation here: https://isss.umbc.edu/opt-concerns/
Applying for OPT
OPT requires an application be prepared and sent to USCIS (US Citizenship and Immigration Services) for review. The application can take up to (and even beyond) 3 months to process, so students should plan ahead as much as possible and apply early!  The ISSS office works with students individually to prepare the OPT application, which requires a new I-20 specifically for OPT.
Please start by carefully and thoroughly reviewing our

OPT Application Website.
This website includes all required forms, step-by-step instructions, and much more!  Please also review these additional resources:
Presentation Slides – Applying for OPT Fall 2022
Electronic/Online Filing Video Tutorial (must be logged into your myUMBC account to access)
This 16 minute tutorial walks you through completing your online filling and using the "View Draft Snapshot" feature to produce the I-765 you must submit to ISSS to get your "OPT Recommendation" I-20
Xtreme OPT Workshop Recording Fall 2022 (must be logged into your myUMBC account to access)
PhD students should note that you have quite a bit of flexibility concerning when you apply for OPT to start working, which can take place during your research if you prefer, and not just after graduation.  Please use our website here to review your options in more detail, and let us know what questions you might have.
Getting your OPT I-20 and Reviewing OPT Application Documents with ISSS
Process to Apply for your OPT I-20: 

Login to your ISSS Portal
Click on "Search Forms" in the top right corner of the page
Choose the relevant application – Optional Practical Training (OPT)
Read the directions and complete all sections of the application
The application requires the support of your academic adviser.  Please follow the directions under the "Recommendations" section to invite your adviser to provide their support electronically.
Only click submit after you have uploaded all requirements.
ISSS staff will review your application and contact you within 5-7 business days after your adviser recommendation is received.
You can then submit the complete OPT application to USCIS.
OPT Timeline
While the OPT Application Website will give you the best details about planning for your OPT application, please note the following as you plan ahead:
The OPT application can be submitted as early as 90 days before your I-20 end date.  Your I-20 end date should match your approximate graduation date from UMBC, and will need to be altered if it is not accurate.
The latest date the OPT application can be submitted is 60 days after your I-20 end date, though please do NOT plan to wait this long to apply!
The OPT application takes up to (and sometimes beyond) 3 months to process, so please plan to apply as early as possible.  You should apply at least 3 months before the Start Date you plan to request for your OPT year.  Please see the OPT application for more information on your Start Date and advice on how to select it.
Your OPT work can only begin after your OPT is approved, and your start date has arrived
After OPT is Approved
The SEVP Portal – update your employer and contact information
During OPT, your immigration responsibilities are to:
Report your employer information, including end date when you leave an employer
Keep your address and other contact information updated
As of April 2018, you can do both of these yourself by accessing the SEVP Portal.  This means you are entering your own information into your immigration record directly, so it is important to read through the directions below carefully to understand how to best record your information and keep your immigration record up to date, as required by law, during OPT.
SEVP is the Student and Exchange Visitor Program, a US government specialized immigration organization.  SEVIS is the Student and Exchange Visitor Information System, where the immigration records of students are maintained.
Remember to review the OPT rules and requirements here: https://isss.umbc.edu/opt-application-information/#rules
Step 1: Create a SEVP Portal Account
On your approved OPT start date, you will receive an email to the email address that is in your immigration record with a link to create your SEVP Portal account, and directions to create a password.  The email will come from do-not-reply.sevp@ice.dhs.gov  You will need your SEVIS ID to create your account – you can find this number, which starts with N00…, on your I-20 in the top left corner.  You will also need to enter the same email at which you received your account creation email, NOT an alternate email.
This link will work for you only, and will only work for 2 weeks.  After that time, please contact ISSS at isss@umbc.edu to ask for the portal invitation to be resent.
Please note that the password requirements are tough – a good strategy can be to use words or phrases and replace some letters with numbers or symbols.  This is the hardest part – please be patient and be sure to record your password, so you don't have to make it again!
Please note, SEVP does not recommend accessing your SEVP Portal via phone.  If your browser is not working, they recommend using Internet Explorer.  
Step 2: Update you information on the SEVP Portal
The Portal allows you to update your contact information and employer information any time these things change.  You can login from here: https://sevp.ice.gov/opt/#/login  You will not be able to access your Portal with the link you originally received via email after you first set up your account.
Please be sure to carefully and accurately enter your address, phone number and email if any of these change while you are on OPT.
Entering your employer information:  Please carefully follow these directions!
NEVER delete an employer unless it was entered in error, and you did not work there!  If you are leaving an employer, add an end date – again, do NOT delete, or it appears that you were unemployed for that period of time!
Enter the start date carefully, as unemployment time is calculated based on the start date you enter.
Make sure to enter accurate dates – it is essential that your employment details all match in the various places this information is recorded, including your CV, especially for later applications like H-1b or Permanent Residency.
If your employer uses multiple names, be sure to work with them to determine the legal name of the company that is hiring you.  Do not guess!
If you leave an employer, please be sure to edit that employer in your Portal with an end date.
You can edit employers at any time.
If you work for one employer but are contracted to another:
Enter the name of the company that has legally hired you
Enter the address of the office where you physically go to work each day, even if it is different than the address of the hiring company
In the "Comments" section of the Portal, please write the following:

Company contracted to: xxxxxxxx
Address of hiring company: xxxxxxx
Please be sure to keep this information updated if you change the employer or location you are contracted to!
You can see more directions, videos and resources on using the SEVP Portal here: https://studyinthestates.dhs.gov/sevp-portal-help
Step 3: Do you need a new I-20?
In the past, students always were provided a new I-20 with any employer update, so you could verify that your immigration record had your employer information in it.  Now that you can verify this yourself in your Portal, a new I-20 will not be issued each time your information is updated.
You will need a new I-20 if:
Your employer requests it from you
You need to renew your driver's license
You plan on travelling abroad in the next 6 months ( to have a valid travel signature and updated employer information on your I-20)
If you need a new I-20, please login to your ISSS Portal and use the "I-20 Reprint Request" application. Be sure to make any updates to your SEVP Portal record before submitting the I-20 Reprint Request!
Step 4: Errors and Problems
Here are some common errors or problems and what to do:
You forgot your password:  Go to the SEVP Portal login screen, click the "reset password" link, and follow the directions there.
Your SEVP Portal account is locked:  Your account will lock after 90 days if you do not access it.  If this happens, first please try the "reset password" option from the SEVP Portal login screen.  If this does not work, please email isss@umbc.edu, and we can request the account to be unlocked and you will receive an email with directions on how to access the account again.
Your password reset is not working:  Please do NOT try to update your Portal on your phone – SEVP recommends using a computer for this step.  They also recommend clearing your browsing history, and if you are using Google Chrome and are still unable to make the change, try Internet Explorer.
Your employer address is not accepted by the Portal: The Portal will make sure that every address entered for an employer is a legitimate address.  Please enter addresses very carefully, and make sure to put the different parts of the address in the appropriate fields.  If you have entered the address perfectly and it is not accepted, please email isss@umbc.edu with the address and we can help with this.
Your name, birthday, or other personal details that you can see in the Portal are incorrect: Please email isss@umbc.edu if you notice any errors to information in the Portal that you do not have access to.  Please note that these pieces of information should match your I-20 exactly.
You do not receive an email to create your Portal account when your OPT starts: First, please note that you will only receive a Portal email on your OPT start date – not when it is approved, but when it actually begins!  The email will be sent to the email address in your immigration record, which is often changed to your personal email address when you apply for OPT to make sure you still receive these emails after you graduate and may stop regularly checking your UMBC email.
If you do not receive this email in your personal email account, please email isss@umbc.edu and we can make sure your email address is entered correctly in your immigration record.
You receive an email about the Portal from an email address other than UMBC ISSS staff or do-not-reply.sevp@ice.dhs.gov: This is likely a scam, please do not respond to any email not from us or the government email noted here!  SEVP is concerned that scammers may target students on OPT with fake emails about the Portal to try to get your personal information.  If you receive an email you aren't sure about, please forward it to isss@umbc.edu and we can help determine if it is legitimate.
You asked ISSS to make a change in your immigration record today, but you don't see the change in the Portal yet: There is a one-day delay in when information entered directly into the SEVIS immigration system is updated in the Portal. Try again after one day to verify the change.
Further Resources on the SEVP Portal:
Employment:
You must be working while on OPT.  You have up to 90 days of unemployment throughout the year of OPT.  Your F-1 status can be terminated automatically if you have not reported an employer after 90 days!
Employment must be related to your field of study at UMBC.  If you work more than one job at once, all jobs must be related to your field.
Employment can be part-time or full-time (minimum 20 hours per week).
Employment can be paid or unpaid.
You can switch employers as often as you like, but must notify the ISSS office of any changes in employment through your SEVP Portal.
All employment must be reported through your SEVP Portal.
Reporting Changes of Information in your SEVP Portal: 
While you are on OPT, you will still be in F-1 immigration status and UMBC will still be responsible for maintaining your immigration record.  So that your record is kept current, please update your SEVP Portal with changes to any of the following within 10 days, as required by F-1 rules:
Change in your home address (where you physically stay)
First employer or Changes to employer
All changes must be reported within 10 days of the change occurring, per immigration rules!
Health Insurance:
Please recall that your UMBC student Health Insurance will expire after your last semester at UMBC.  You can choose your own health insurance plan, use one offered by your employer, or choose to continue your enrollment in the UMBC plan while you are on OPT.  To continue your UMBC health insurance, please contact the University Health Services office directly at uhs@umbc.edu
Continuing Education while on OPT:
Students MAY NOT begin a new degree program while on OPT.  Coursework outside of a degree program is acceptable.
Replacing a lost EAD card
If your EAD (employment authorization document – your card you receive when your OPT is approved) is lost, stolen, or otherwise no longer in your possession, you would need to apply for a replacement EAD.  Please note this will require a new complete OPT application, including the application fee.  Please contact the ISSS office if you would like assistance preparing the application for the replacement EAD card.
Best Practices for H-1b and Beyond
Be sure to review our website on OPT Best Practices, to help you keep good records and be prepared to present them in the case of an H-1b or other future immigration application:  https://isss.umbc.edu/opt-and-stem-opt-best-practices-for-h-1b-and-beyond/
Next Steps After OPT
As your OPT is nearing its end, you need to be aware of your options and plan accordingly.  These are some of the most common next steps for students completing OPT:
1. 24-month STEM OPT Extension
The "STEM Extension" allows F-1 students on post-completion OPT who have received a degree in a "STEM" field (science, technology, engineering or math), to apply for a 24-month extension to follow a regular 12 month OPT period. You cannot apply for 3 years of OPT all at once.
The STEM Extension requires that students be employed by an employer that is "E-Verified" – enrolled in the US government's E-Verify program.
Your employer also needs to complete an I-983 Training Plan with you.
You can apply up to 3 months before your first year of OPT expires.  At the latest, your STEM extension application must be received by USCIS before your first year of OPT expires.  Students with a pending STEM extension application can continue working after their first year of OPT has expired, even if the new EAD card for the STEM extension has not yet arrived, for up to 180 days.
Please note, to apply for the 24 month OPT STEM Extension, you will need to have formally graduated and received your degree, OR be prepared to demonstrate that you have completed all degree requirements except a thesis or dissertation, before the end of your first year of OPT.
Please find additional information about applying for STEM OPT on our website.
 2. H-1b Cap Gap
Students whose employer has filed an H-1b status application for them may be eligible to use the H-1b Cap Gap to continue working between their OPT end date and their H-1b start date.
In general, all H-1b status applications can be submitted by the employer after April 1, and despite the date of approval, all H-1b work authorizations start October 1 of the same year.  If your OPT expires before October 1, you may be eligible for the Cap Gap to extend your OPT work authorization until Oct 1.  You MUST have a pending H-1b application before your OPT expires to qualify, and your OPT end date must be after April 1 and before Oct 1.  If this is your case, please contact the ISSS office to request an I-20 with the Cap Gap notation.
3. Transfer to Another School, Start a New Degree Program
If you will continue your studies at another school after OPT, you MUST transfer your immigration record to the new school within 60 days of your OPT end date.  Directions to transfer your immigration record/I-20 out of UMBC are on the ISSS website.
4. Leave the US
After your OPT end date, if you will not use one of the options above, you have 60 days before you need to leave the US.  Please note, you do not have work authorization during that time.
Additional Concerns during OPT
Travel Abroad and Visa Renewal during OPT
Transfer your I-20 out of UMBC during OPT
Applying for the STEM OPT Extension
H-1b Cap Gap – transitioning smoothly from OPT/STEM OPT to H-1b