Short history of Baltimore
Founded in 1724, Baltimore is the largest city in Maryland and one of the largest seaports on the eastern seaboard of the United States. The city is named after Cecilius Calvert, Lord Baltimore, a member of the Irish House of Lords and founder of the colony of Maryland in 1634. Baltimore also played a large role in the American Revolution and the War of 1812, both of which were fought against Great Britain. In 1814, United States forces at Ft. McHenry in Baltimore successfully defended Baltimore City from a British naval attack. Witnessing the battle while aboard a British ship, Maryland lawyer, Francis Scott Key, wrote the poem 'The Start Spangled Banner" after seeing the huge American flag flying the morning after the naval bombardment. The poem was put to music and became the national anthem in 1931. Baltimore also played a large role in the Civil War as the first shots of the Civil War were fired in Baltimore during a riot in 1861. For more about the history of Baltimore and historical sites to visit around the city, please visit here and Baltimore Heritage. From UMBC, Baltimore is best accessed by UMBC Transit's Downtown Line.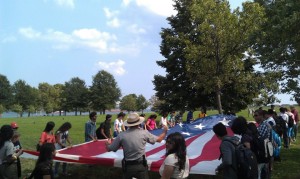 Catonsville
Catonsville was historically a midway rest stop between Baltimore City and Ellicott City during the 1800s. In the late parts of the 19th century and early parts of the 20th century, Catonsville was established as a lovely place to retreat from Baltimore's sweltering summer heat. Wealthy Baltimoreans began to build large Victorian and Colonial homes in the area as summer residences, many of which still remain today. Catonsville is also very popular for its community events and its famous 4th of July Parade. Many UMBC faculty, staff, and students reside in Catonsville. It can be best accessed by using UMBC Transit.
Arbutus
Arbutus is a town adjacent to UMBC. The MARC Train Penn Line (servicing Baltimore and Washington, D.C.) has a station in Arbutus. Arbutus contains a movie theater, a barber shops, several international restaurants, and a local farmer's market on Thursdays from 2:30pm-6:30pm. Many UMBC students reside in Arbutus because of its walking proximity to UMBC and it can be accessed by both the UMBC Arbutus and Halethorpe shuttle lines.